Third annual NRN-LCEE Summer Conference
The third annual NRN-LCEE Summer Conference took place at the University of South Wales in August 2017. 90 researchers, members of the NRN-LCEE Strategic Advisory Group and Executive Board joined this year's event, which included scientific presentations from all NRN Research Clusters and 5 of the Returning Fellows.
The NRN-LCEE Returning Fellows demonstrated just how beneficial this scheme has been for them, and how far these relatively small awards have gone in re-kindling their research careers. Activities undertaken by the Returning Fellows include developing collaborations in the UK, Poland and Fiji, setting up new experimental field trials, and participating in a £1.5M EU research award. Some have also been able to attract new PhD students to expand their work.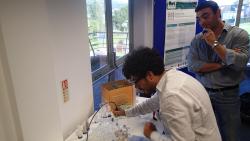 Attendees were entertained by trying out the different science displays at the reception on day 1A highlight of the meeting was the NRN-LCEE PhD students enthusiastically introducing and then presenting posters of their work at the end of day 1. The PhD students and Cluster Fellows also demonstrated their public engagement exhibits, which they have been developing over 2017. Several of these displays have been used at Science festivals throughout Wales, the Royal Welsh Show and the National Eisteddfod. In addition, the AquaWales and Resilcoast displays have been selected for NERC's Science Showcase UnEarthed, in November in Edinburgh.
All Clusters presented their progress over the last 12 months. This included new findings from long-term field experiments, cutting-edge genomics work, and novel findings from national survey data and industry collaborations. After two days, it was clear that considerable ambitious research has been undertaken and that this is at the forefront of energy and environmental research in the UK. This was exemplified by the reports of impressive grant capture and high quality publications.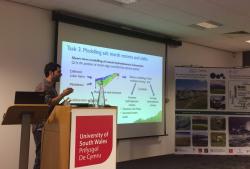 Resilcoast Fellow Dr Jordi Pagès speaking at the NRN-LCEE Summer Meeting.
New at this year's meeting was a graphic visualisation of the meeting by artist Laura Sorvala from Auralab. Remarkably, she managed to bring together all the key elements of the Clusters and Fellowships into a single graphic.
You can see more images from the event on Twitter Moments.
For a video capturing the highlights of the Conference click here.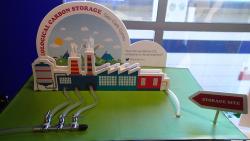 An impressive amount of effort had gone into visualising Cluster Research for the public.
Publication date: 24 August 2017