Soapbox Science participation by NRN-LCEE Fellows
For the fifth year, Swansea University organised a Soapbox Science event in June. This is a global annual event to engage with members of the public who don't normally go to science events and to highlight women in STEMM. The topic of the talks ranged across the STEMM subjects, with giant soap bubbles, insect mating dances and antimicrobial resistance being some of the topics covered. Amongst the scientists were NRN-LCEE Geo-Carb-Cymru Fellow Dr. Sara Rassner (Aberystwyth University) and Returning Fellow Dr. Emma Hayhurst (University of South Wales).
Sara with the giant sandstone model and some keen young scientistsOn a sunny Saturday in June, after a solid week of gluing and spray painting, Sara took her props, volunteers and the world of subsurface microbiology to the unsuspecting shoppers of Swansea's Oxford Street. Sara's talk was on how "Bacteria living deep underground help us remove CO2 from the atmosphere". Equipped with a giant sandstone model, actual stone samples, 10 L sampling bottles and volunteers Caitlin (1st year chemical engineering student from Swansea University), André Soares (Geo-Carb-Cymru PhD student) and Dr Arwyn Edwards (Geo-Carb-Cymru Co-I), Sara surprised the passers-by by linking bottled mineral water to CO2 storage and stone-producing bacteria. Of all the people who stopped to listen and ask questions, three children aged 10 and younger were the keenest, with their arms constantly punching the air to ask another insightful question.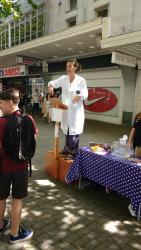 Emma transfering some complex antimicrobial resistance science to the publicEmma did an interactive talk for which she used bright plastic 'rings of resistance' and a foam hammer to illustrate horizontal gene transfer and antibiotic resistance. She had the audience being gut bacteria and then showed them (using fake sticky poo and a plastic toilet) what eventually happens to any resistant bacteria they may have in their gut (they get into the sewage treatment plants and then into rivers and the sea). She gave away a cuddly microbe to the person with the best suggestion for how to reduce antibiotic resistance (or 'kill superbugs') and got four fabulous suggestions from children. She also had a more in-depth conversation with a couple of audience members about the problem of resistance. Feedback was very good with people saying that the talk had made the topic of antibiotic resistance much clearer to them.
According to Emma; "Starting was nerve-wracking and this was definitely something way out of my comfort zone. However, it was actually really exhilarating and I thoroughly enjoyed the experience!"
Sara: "It was great to see so many people stopping to listen and interact with all the soapbox scientists and it was especially exciting that a lot of the teenagers took an interest and to see all the girls getting stuck in. I heard that many visitors didn't even notice that the speakers were an all-female crew. It was a very enjoyable experience and I encourage anyone to get involved."
Publication date: 3 July 2018