RESILCOAST takes steps towards global research and management impact
RESILCOAST has established the world's first global network on saltmarsh research, SaltmarshNET, which was launched at an inaugural 3-day workshop, held in December 2017 on the Lleyn Peninsula in Wales. The workshop was attended by 35 delegates from 11 countries, including Argentina, South Africa, Australia, China, USA and 6 European nations. It included top experts from physical, socio-economic and ecological research disciplines, national and international environmental management bodies (WCMC, UN-environment, National England, and NRW).
The meeting had three main objectives: Firstly, it reviewed whether current paradigms on the natural benefits (ecosystem services) delivered by salt marshes really hold true across the globe. Much current environmental management, policy and associated economic investments through, e.g. environmental regulation, restoration and habitat creation, are founded on current research perceptions of what natural ecosystems do for us, and how these ecosystems will respond to global change. Much current knowledge is based on research done in only a few isolated locations and any manager from other parts of the world is justified in asking 'how well does this hold true for my region?' SaltmarshNET encourages a global review of key paradigms on marsh ecosystem functioning for the benefit of national and international coastal environmental management, policy and underpinning economies.
Secondly, the workshop sought to identify the top 10 research questions of importance to global saltmarsh management. For this objective, delegates sifted through close to 200 different research questions posed by saltmarsh researchers in a pre-meeting global questionnaire, and selected the most important ones for future research to tackle. The outcome of this shortlist of questions will be submitted as a research publication in May 2018.
Thirdly, the workshop aimed to design new, follow-on global experiments for the network to engage in after the meeting. Sampling will start in May 2018.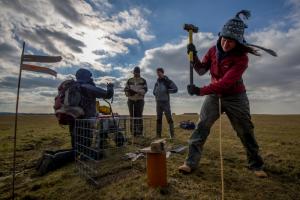 Salt marshes, like other coastal ecosystems, deliver many important benefits to coastal populations. But how do these benefits vary globally? SaltmarshNET will investigate. Photo: Tony Dilger
The workshop outcomes superseded the initial expectations, says Dr Martin Skov of Bangor University, the first lead of SaltmarshNET and principal investigator of RESILCOAST: "SaltmarshNET is one of the most exciting developments I have ever been part of. It is exactly what is needed in environmental science: global sharing of expertise and efforts to tackle environmental challenges that, frankly, are on a scale never before seen and which cannot be solved by single nations, or by researchers and environmental managers working in their own little bubbles and on smaller scales. Our aim is that the national delegates that attended this workshop now go home and expand the network and its activities locally, so that SaltmarshNET will snowball into making truly global impact on management of saltmarshes, for the good of people that depend on the coast for their welfare. That could be directly through, for instance, natural flood protection by marshes or indirectly through carbon sequestration by the ecosystem or other such services".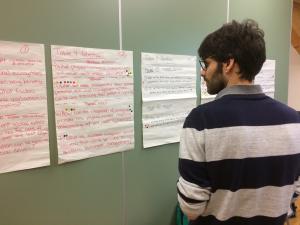 A delegate of the SalmarshNET meeting scrutinises the shortlist of 'key questions for saltmarsh research' identified from a pool of 200 original questions. Photo: Jordi PagèsThere are many challenges ahead for SaltmarshNET and the leading team, which draws effort from all RESILCOAST researchers. New sampling by the network is planned to start in May 2018. A global survey of human use of saltmarshes and the financial benefits that arise from marshes is also planned. Bangor, Swansea and Cardiff Universities, with RESILCOAST partners Plymouth Marine Laboratory, the Centre for Ecology and Hydrology and Natural Resources Wales, are steering new grant proposals to UK research councils, the EU and charities, to expand the opportunities for SaltmarshNET. "We are working hard to make SaltmarshNET a success", says Dr Skov. "We are steering spin-off grant applications and publications, and we are very busy dealing with the many practicalities that comes from hosting a global network, from generating cross-network agreements to designing an interactive website. It's a big task, but one that promises to offer many rewards to all of us. We are just very happy with how well it has gone so far".
Please contact Dr Martin Skov (Bangor University) or Dr John Griffin (Swansea University) for more information about SaltmarshNET.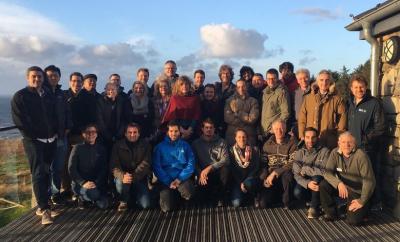 Meeting delegates at the workshop location at Nant Gwrtheyrn, Lleyn Peninsula, North Wales. Photo: Jordi Pagès

Publication date: 17 January 2018