Resilcoast @ Soapbox Science Cardiff
Cardiff Women in Science hosted their second Soapbox Science event in June, following on from a successful event in 2016. 12 female scientists, representing a wide range of disciplines, and a number of volunteers from Cardiff University, Cardiff Metropolitan University, the University of South Wales and Bangor University took to the streets outside Cardiff Central Library to promote their science to the people of Cardiff. The event was extremely popular, with over 12,000 people passing through the space used by the Sopabox Science speakers.
The NRN-LCEE Resilcoast Cluster was represented by Dr Emma McKinley, who spoke about the interdisciplinary research being done by the project team. Emma used a mini wave tank (complete with Lego town and astro-turf salt marsh) built for the Resilcoast project. This demonstrated the role of saltmarshes in coastal protection, the value of working with nature and the different factors that need to be considered when managing our coasts. Her presentation attracted both children and adults, but the water and Lego were a particular draw for children who enjoyed being able to create waves and seeing what happened to a Welsh town with, or without, a saltmarsh to protect it!
Emma was also interviewed by Radio Cardiff and along with other scientists from the day can be heard on the Pythagoras' Trousers show, Wednesday 14 June, 7.00pm on Radio Cardiff.
For more information about Soapbox Science, visit their website or follow them on Twitter using: @SoapboxScience and @SS_Cardiff. The next Soapbox Science event will take place in Swansea on July 8. Visit the website for more details.
Images: Dr Emma McKinley explaining the value of salt marshes to a young audience.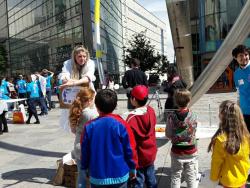 (C) SoapBox Science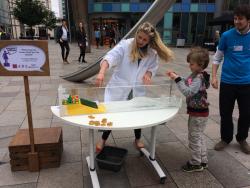 (C) Ian Hall
Publication date: 13 June 2017