RDF workshop explores what we want from our uplands, and how we achieve it
A two-day NRN-LCEE funded workshop in Birmingham on 8-9 May explored different scenarios for future upland management. Uplands provide important ecosystem services that benefit society as a whole and bring important cultural and social benefits to rural communities. Much of the UK is classified as 'upland' yet faces numerous pressures from changes in management, land use and climate.
Policy-makers are faced with an inherently difficult task: i) to decide what land uses/outcomes are desirable at different locations, and ii) to determine what actions and interventions are required to achieve such outcomes, within the constraints of market forces, reduced budgets, conflicting social and political demands and the effects of climate change. It is an opportune time to explore this topic due to the potentially significant implications of Brexit on upland livestock systems and management for multiple uses (e.g. food production, carbon or water storage, timber production, biodiversity, aesthetic value, renewable energy, or all of these).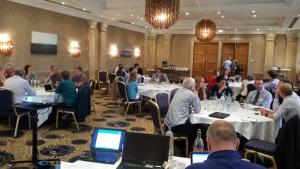 This workshop brought together 48 stakeholders and experts from across the UK to explore views on how the uplands should be managed in the future, with participants from the environmental sciences, economics, conservation, social sciences, policy, NGOs, charities, and industry spheres.
Prysor Williams, Senior Lecturer in Environmental Management at Bangor University, who organised the event, was pleased with how it went. He said, "We had excellent discussions between people from different backgrounds, offering alternative perspectives to common questions. A number of talks set the scene for the discussions that followed thereafter. We explored different scenarios, considered how to instigate change or maintain what we have; and the socio-economic and environmental trade-offs between different outcomes. Many participants noted how informative and valuable the event had been. I would like to thank all those who participated."
Workshop participants are now developing a 'position' paper to feed into the discussions taking place by policy-makers in the various devolved governments of the UK.
Publication date: 14 May 2018