Plants and Architecture Cluster event at the Royal Welsh Show
Members of the Plants and Architecture Cluster took to the stage at the Royal Welsh Show. Their aim was to give present and potential collaborators from both the public and private sectors an insight into the Cluster's research in the areas of controlled environment agriculture, green building design, on-building green infrastructure and bio-based materials. The event addressed policy-relevant topics such as new ways of producing food, especially in a post-Common Agricultural Policy context and through urban horticulture, building regulations for green building materials, green infrastructure implementation, energy efficiency and Wales' GHG emission targets. It was attended by Ben Lake MP (Ceredigion), Aberystwyth University Vice-Chancellor Elizabeth Treasure, IBERS Director Prof Mike Gooding and representatives from Welsh Government, local government, Dŵr Cymru Welsh Water, the Farmers' Union of Wales, industry and third sector organisations.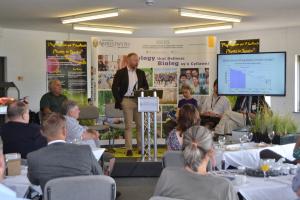 Dr. Graham Ormondroyd (Bangor University) discussing relevance of the Cluster's work for green building regulations and development of green building materials.The event comprised a series of short presentations by Profs Phil Jones and Iain Donnison, and Drs Graham Ormondroyd, Peter Wootton-Beard and Judith Thornton. Attendees discussed how new technology and knowledge could be utilised to provide opportunities for sustainable, low-carbon advances in construction, food production and regional planning in the face of the profound environmental challenges of the 21st century. Follow-up meetings with potential new collaborators, particularly in the area of controlled environment agriculture, are already being planned.
Ben Lake MP said: "It was fascinating to learn more about the research the Plants and Architecture Cluster have been carrying out over the past few years and to understand the potential impact of the research on improving human well-being and food security as well as addressing carbon emission targets."
Prof. Elizabeth Treasure said: "I was very interested to hear more about the research that the Plants and Architecture Cluster have been working on. As a university we are supporting more interdisciplinary research like this to help answer the fundamental grand challenges we are facing as nation and as part of the global community."
Dr Gareth Jones, CEO of Digital Farming Ltd, said: "Well done on an excellent show and giving a great overview of the Plants and Architecture Cluster's capability - this is an exciting time for food industry innovation in Wales: The Future Foods programme – a collaboration between BIC-Innovation and IBERS at Aberystwyth University – was also announced this week and is developing excellent research potential for AgTech collaboration in Controlled Environment Agriculture."
Gareth has organised a special interest group in AgTech and can be contacted by emailing gareth.jones@digitalfarming.io
Publication date: 1 August 2018