NRN-LCEE Returning Fellow sets up new research collaborations in Fiji
Sindia Sosdian is a Lecturer at Cardiff University and a NRN-LCEE Returning Fellow. During her Fellowhip Sindia is working with collaborators in Malaysia and Fiji to develop and apply novel biological and geo-chemical techniques to examine linkages between land use change and water quality and its impact on reef health.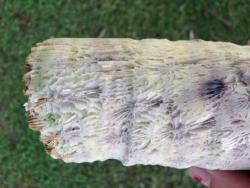 Side view of Diploastrea coral core specimen. This coral species is slow-growing, massive, and resistant to bio-erosion due to its dense skeleton.In May 2017, Sindia traveled to Viti Levu, Fiji, to develop local collaborations with NGOs and researchers at the University of the South Pacific (USP) and to complete pilot coral reef sampling. During the trip, she worked closely with USP Lecturer Dr. Eleanor John, and conducted several reef surveys in different regions with different levels of anthropogenic impact. As part of these reconnaissance surveys, Sindia and her collaborators were able to collect core samples from the massive coral species Porites and Diploastrea, abundant in these coastal regions (see picture).
Building on this visit, Sindia will now co-supervise a USP MSc student examining key indicators in coral growth to assess impacts of land use and climate change on these reefs. In addition to the site surveys and scientific discussions, Sindia visited local villages and interviewed several residents to gain insight on what they thought were the big issues and threats for their reefs. She also met with the Wildlife Conservation Society to gain insights into existing projects in the region.
Overall, from this visit Sindia gained long-lasting connections with key collaborators and valuable pilot study samples, which will be useful to set the stages for future work in this region and upcoming grant proposals.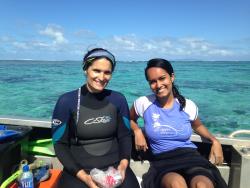 USP MSc student Ms Lisa Goberdhan with Sindia (left) near Votua Village, Viti Levu, Fiji
Publication date: 6 June 2017