NRN-LCEE Policy Engagement workshop (June 2017)
NRN-LCEE researchers and representatives from Welsh Universities, Government and other organisations met at the SSE Swalec Stadium in Cardiff, to learn about how to engage with policy makers. 5 speakers shared their experiences on how to operate at the science-policy interface.
Graham Winter, from the Research Service of the National Assembly for Wales, started the afternoon with an account on the Welsh Assembly Research Service. He discussed their role and how academics can best engage with the Service to help make their research known and accessible to policy makers. The Assembly takes a keen interest in all new research, and besides talking directly with the Service academics can engage through various initiatives, including a Fellowship Scheme, internships and seminars.
Louise Edwards, from the Academia Europaea Knowledge Hub Wales, gave an overview of the Hub's activities in supporting the European Scientific Advice Mechanism with expert knowledge and advice. They promote research excellence for policy and acting as a catalyst for knowledge exchange, collaboration and ideas.
Henry Burgess, Head of the UK Arctic Office, highlighted how the Arctic Office creates opportunities for sharing research findings with policy makers. Examples ranged from tailoring specific findings to a policy audience and facilitating meetings with key players. He described the importance of participating as Observers in Working Groups of the Arctic Council, and contributing to scientific advice on actions to be taken by Arctic governments managing the region.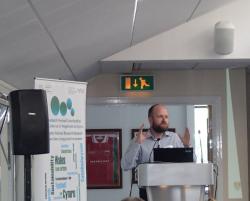 Dr Mike Weston from the UK Energy Research Centre explains to the audience how different types of relationships can benefit bridging the academia-policy interfaceBridget Emmett, Head of Site at CEH Bangor, gave a detailed account of 2 personal experiences of policy engagement. Her presentation included a range of practical tips to make research known at a policy level, and how to frame findings in order for a policy audience to take notice.
The final talk of the day was given by Mike Weston, Operations Manager at the UK Energy Research Centre, who provided an account of the intricate dynamics of the research-policy interface, succinctly bringing all the presentations together in a final overview.
All presentations were recorded and are available on the NRN-LCEE website.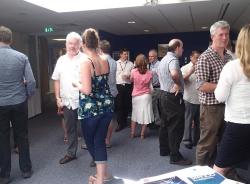 The workshop took place on the hottest midsummer's day in recent history, and a few welcome breaks were included in the programme.
Publication date: 28 June 2017