NRN-LCEE Exploring Resilience workshop with the Royal Society of Biology
Over 90 people were at the SSE Swalec stadium in Cardiff on 18 May, to learn about resilience from a highly multidisciplinary view of this this broad and topical theme.
The workshop was the first NRN-LCEE event organised in partnership with the Royal Society of Biology, and included 11 speakers that presented wide-ranging and thought-provoking perspectives on resilience.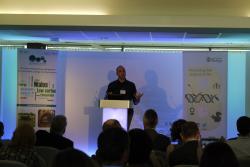 Dr Albert Norstrom (Stockholm Resilience Centre) giving the first presentation of the day.The workshop started with presentations by Dr Albert Norström and Prof Ioan Fazey who gave insights into the resilience of socio-ecological systems and societal transformations. These gave the necessary overview of the range of challenges society faces in the context of resilience, and what questions should be asked in order to address them.
The second session of the morning focused in on the resilience of energy and food production systems. This included presentations on resilience of electricity networks (Dr Ruth Wood), coastal resilience and marine infrastructure (Dr Jun Zang) and sustainable intensification of agro-ecological systems (Dr Dave Abson).
Next, resilience of communities and the built environment were addressed by presentations on building resilience to natural disasters (Prof Dilanthi Amaratunga) and resilience of UK buildings and care homes to overheating and climate change (Prof Rajat Gupta). The session ended with a presentation on the role of communities in resilience to flooding, and in mitigation of climate change impacts (Dr Catherine Butler).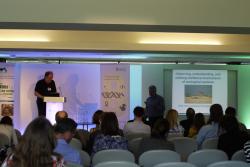 Prof Volker Grimm with NRN-LCEE Director Prof David Thomas answering questions from the audience.The final session provided insights into resilience of the natural environment to human activities, covering the increase of anti-microbial resistance in bacterial communities (Prof Liz Wellington) and resilience of the marine environment to the surge of marine developments taking place (Dr Andrew Gill). Finally, there was a conceptual talk by Prof Volker Grimm, on the various mechanisms for ecological systems to build resilience.
A conclusion of the workshop was that there is no single, one-size-fits-all concept of resilience and there is a need to focus on the mechanisms of resistance and recovery of a system in order to understand how it can be resilient to change and can persist. This sums up well the complex range of topics addressed and questions that need to be posed in order to achieve both resilient societies and environments. Interdisciplinary research and collaboration are central to this, and the workshop audience clearly reflected this diversity.
All presentations have been recorded and are available on the NRN-LCEE website and YouTube Channel.
Publication date: 27 May 2016