NRN-LCEE and STEM Cymru enable 120 Girls to experience STEM research at Bangor University's School of Ocean Sciences
The NRN-LCEE partnered up with STEM Cymru for four Girls into STEM events at Bangor University's School of Ocean Sciences (SOS). The first 2 visits took place in June and July. During each event, 30 Students aged 13-15 from schools across North Wales were welcomed to the main SOS teaching lab by Dr Yueng-Djern Lenn and three postgraduate students.
Throughout the day, the girls received a facilities tour of the SOS laboratory spaces and the Prince Madog research vessel. These were followed by a series of short practicals based on the physics, chemistry and biology of the oceans. In the "squidgy plastics" themed practicals, the girls learned about buoyancy and made cartesian diver squids. They also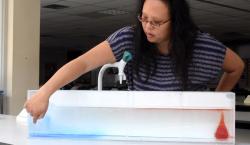 Dr. Yueng-Djern Lenn demonstrating transport and mixing in the oceanlearned how micro-plastics are detected in the ocean and dissected a real squid. In the "gases in the ocean" practical, the girls learnt about how ocean temperatures affect gas solubility and transport and about the role of the marine ecosystem in the carbon cycle. They also examined how different marine organisms breathe. Each event concluded with a panel discussion about careers in marine science with SOS scientists.
The visitors found the practical activities engaging, although some complained about the use of long and complicated words. The STEM Cymru staff and teachers were effusive in their praise for the activities. The biggest praise received was for the STEM panel discussions with active researchers. One teacher highlighted this as particularly inspiring for the girls suffering from poor self-esteem: Especially the discussion about the ways in which the scientists had faced adversity and not given into it and how many of the academics did not necessarily see themselves as particularly clever.
These events have been a fantastic opportunity for young girls to get a flavour of what it is to be a scientist. Two more visits are scheduled for Year 12 students in September and December.
Publication date: 25 July 2018