Miranda Krestovnikoff presents her whistle-stop tour around the UK coast at Bangor University
On 31 January, over 400 people attended a public lecture at Bangor University by TV presenter, keen diver and marine wildlife enthusiast Miranda Krestovnikoff.
In her talk, Miranda took the audience on a journey around some of her favourite spots along the UK coast, including several in Wales. She also gave some behind-the-scenes insights into what being in front of the camera and underwater really means – it is not all glamour, sunny days and warm seas!
Miranda gave the audience a real sense of the beauty and diversity of wildlife that is found around UK waters. From dolphins to sea fans and from turtles to weeds – her talk included pictures and stories of creatures big and small and left the audience inspired to go explore the coastlines on their own. Hopefully developing a passion to keep on learning and helping to protect these beautiful habitats.
The lecture was co-hosted by the Sêr Cymru National Research Network for Low Carbon, Energy & Environment and Bangor University.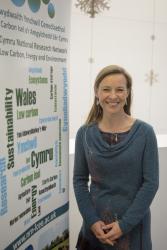 Miranda Krestovnikoff
Publication date: 1 February 2018