Gender (in)equality in Higher Education Event 29th January 2019
On 29th January 2019 the Sêr Cymru National Research Network for Low Carbon, Energy and Environment (NRN-LCEE) hosted an event addressing gender equality in Higher Education and research.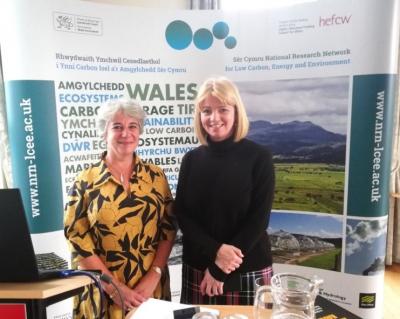 Dr. Liz Elvidge and Prof. Louise C Kenny

We hosted two experts awarded for their contributions towards implementing gender equality initiatives in research and higher education to share their experience and expertise with an audience of staff and students from higher education and research settings in Wales:
Prof. Louise C Kenny is the Executive Pro-Vice-Chancellor of the Faculty of Health and Life Sciences at the University of Liverpool, Professor and Maternal and Fetal Health and a Consultant Obstetrician at the Liverpool Women's Hospital. Louise was awarded 2015 Irish Tatler magazine Woman of the Year Award for STEM.
Her talk entitled: "Gender equality in higher education- glass ceiling or sticky floor…." provided a clear analysis of the data surrounding the discrimination of women in Higher Education followed by the exploration of reasons underlying this and solutions for moving forward.
Dr. Liz Elvidge is the Head of the Postdoc and Fellows Development Centre at Imperial College London. She has a longstanding commitment to supporting women in academia, beginning with the Springboard Women's Development Programme at the start of her career, to providing expert advice on Athena SWAN applications as an assessor and chair. She was awarded the Dame Julia Higgins Medal in 2015 for outstanding support of female early career researchers and academics.
Her talk entitled: "Don't pour the tea: reflections on gender inequality and whether it is ever going to be sorted." covered topics such as the impact of Athena SWAN, unconscious bias, how much more data do we need to prove that gender inequality still exists and do we just need to be more radical.
Recordings of the presentations can be viewed here.
"Excellent match between presentations and theme. Two very interesting perspectives. Perfect length - time out the office well spent."
"A wonderful event - thanks so much - great to have such good speakers inspiring us to take action."
"The two speakers were excellent, listening to their stories and insight was very valuable."
"Excellent speakers: knowledgeable, informative, and inspiring."
Publication date: 26 February 2019