Enhancing energy and water resilience of businesses in Wales – RDF-funded workshop

The NRN-LCEE Research Development funded workshop 'Enhancing the Resilience of Businesses in Wales: Achieving Water and Energy Savings' took place in Newtown on 26 January. The event was organised by Bangor University in collaboration with Aberystwyth and Cardiff Universities and aimed to discuss energy and water: Its value to Wales and what the future holds for these resources; considering what direction the region is taking to ensure their continued availability.
Invited speakers represented the Centre of Alternative Technology, Waterwise, Adnams Southwold, Dulas, Bangor Sustainability Lab and Trinity College Dublin. Other participants from across Wales represented businesses primarily delivering energy solutions, and several organisations working with businesses to enhance their market growth. Expertise on prioritisation of water efficiency was less well represented and this was reflected in one of the messages from the workshop: That energy-related issues are being discussed and actively addressed, but more focus on water-related issues may be needed.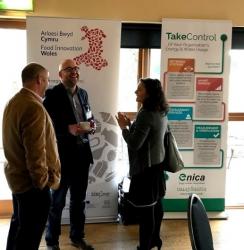 Another important point outlined by several speakers was the importance of behavioural change to future sustainability of energy and water resources and that technological solutions can only take us so far.
The workshop was a useful opportunity to develop a growing network for delivering the services required to improve resilience of business through energy and water saving measures. Links between some key business sectors and specific businesses that can benefit from the support and expertise represented at this event were identified, and it is hoped that these connections will be developed further in the coming months. This can lead to useful case studies for enhancing the resilience of businesses through measures to achieve energy and water savings.
Publication date: 2 February 2018