Climate-Smart Grass research at the Royal Welsh Show
Climate-Smart Grass research was presented to stakeholders in the Education Pavilion at the Royal Welsh Show. The session was led by Cluster PIs Profs Alison Kingston-Smith (Aberystwyth University) and Davey Jones (Bangor University) who led the discussions about future options for sustainable management of grasslands in the face of a changing climate. Attendees included officials from the Farmers Union of Wales, National Trust, Farming & Wildlife Advisory Groups, The National Trust, Germinal Seeds, Welsh Government and AMs David Melding, Dai Lloyd and Mike Hedges from the Welsh Assembly's Sustainability and Climate Change Committee.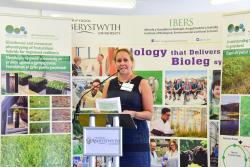 Prof Alison Kingston-Smith welcoming politicians, farming and industry representatives to the event.
The wide-ranging discussions covered the issues of Brexit, soil compaction, alternative forages, perception of technologies by farmers and how to improve agri-environment policy to facilitate adoption of new grass varieties. The deep rooting traits of new Festulolium hybrid grasses were demonstrated, a feature that helps protects plants in times of drought. In addition, rhizotron boxes exemplified how these novel grass varieties change soil structure and improve soil drainage, preventing damage from flooding. This was accompanied by a poster exhibition of wider research findings.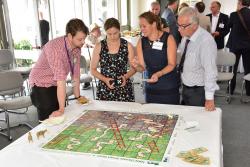 Also showcased was the Cluster's new 'Earthworms and ladders' board game, designed to enhance public engagement.
Publication date: 17 August 2018