AquaWALES: Public Outreach and Citizen Science contribute to research on Invasive Species
By Chloe Robinson, AquaWales PhD student, Swansea University
Getting the community involved with scientific projects is a good way to enthuse people about their local environment and increase awareness about what they can do to help preserve it. As part of my PhD project, the AquaWales team at Swansea University have set up an initiative called the 'Crayfish Count'. Our aim is to encourage anglers and community groups who use the rivers to search for invasive signal crayfish (Pacifastacus leniusculus).
Part of the problem with tackling invasive species is that we don't fully know where individuals reside. Therefore, data on sightings of the invasive species is vital. The synergy between scientists and citizens is well known from many environmental citizen science projects, and in recent years a greater number of such projects have focussed on, or around the collection of, data on invasive species presence. Since anglers spend a large amount of time near the water, they are an ideal target group for this initiative.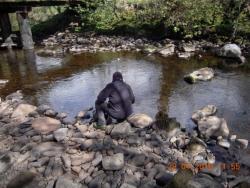 An angler from Merthyr Tydfil Angling Club sampling for crayfish eDNA
After contacting many angling groups across Wales, I presented the initiative to interested clubs, and received some excellent feedback. I was then able to distribute sampling kits. The Crayfish Count requires the anglers to spend a short time searching for signal crayfish and recording any sightings on the AquaInvaders App* (or on recording forms provided). If they find crayfish they also take a swab from the underside of the crayfish. The swabs are then posted back to Swansea University for crayfish disease screening. The AquaInvaders App is an invasive species app developed by the AquaWales Cluster partner,Natural Apptitude, and allows the public to record sightings of a range of aquatic invasive species in the UK.
In addition to speaking to angling groups, the Swansea University AquaWALES team distributed Crayfish Count kits in a variety of other ways. For example, together with AquaInvad-ED research teams they hosted several talks for National Invasive Species Week at Swansea University, where kits were distributed to staff and students.
Additionally, In September 2016, I took part in the Swansea Soapbox Science event, which is a novel public outreach platform for promoting women scientists and the science they do. I spoke about my research, and also distributed more kits and encouraged the public to think about invasive species and get involved with citizen science projects.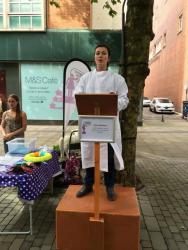 Chloe Robinson speaking at SoapBox Science Swansea (photo Ben Whittaker)
As well as being involved with the Crayfish Count, Merthyr Tydfil Angling Club approached us to collaborate in collecting water samples from the River Taff for environmental DNA testing for signal crayfish presence. After a brief meeting, an eDNA kit was posted along with protocols and the samples are currently undergoing analysis at Swansea University. Such collaborations between scientists and the community work both ways: The anglers are able to find out if there are signal crayfish in their local fishing area, and the scientists can gather information which, without local knowledge, would be difficult to obtain.
For more information on the Crayfish Count and the AquaWALES Research Cluster, please visit the AquaWales website, tweet us at @aquawales or contact AquaWales on aquawalesresearchcluster@gmail.com.
*The AquaInvaders app is available through the Google Play Store or the App Store.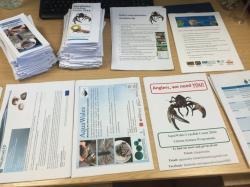 Crayfish Count Kits being prepared

Publication date: 26 October 2016