AquaWales hosts world-leading parasitologists at Cardiff workshop
A workshop organised by the NRN-LCEE AquaWales Cluster brought together world-leading experts in parasite ecology, aquaculture science, fish biology and invasive species, to address the hidden consequences of parasite control measures on aquatic life.
The workshop 'Impact of parasite control treatments on non-target organisms and ecosystems', was held 3-6 April and shed light on the potential damage to non-target organisms and environments resulting from parasite control treatments. The workshop addressed the impacts of parasite control programmes on natural and managed environments while providing a platform for collaborative research networks. Workshop delegates included researchers from University of Otago, New Zealand, NIOZ Royal Netherlands Institute for Sea Research, and the Natural History Museums of Geneva and London as well as AquaWales Cluster members from Cardiff and Aberystwyth Universities.
Dr Amy Ellison, Sêr Cymru Research Fellow at Cardiff University's School of Biosciences, said: "It has been more than 50 years since Rachel Carson's seminal book 'Silent Spring' highlighted the devastating environmental effects of the chemical DDT, routinely used since World War II to control mosquitoes and prevent spread of malaria. Despite this, the World Health Organization continues to recommend DDT and other broad-spectrum biocides in the fight against human parasites. Moreover, intensification of agriculture, livestock production, and aquaculture leads to an ever-increasing reliance on chemical parasite treatments in food production industries. However, the indirect or knock-on effects of such chemicals, and indeed physical control measures, on our natural aquatic ecosystems remains poorly considered."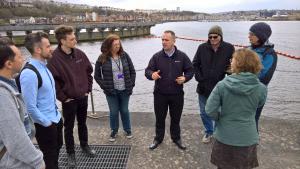 Workshop delegates enjoyed a tour of the Cardiff Harbour barrage and fish pass from AquaWales Cluster partner Cardiff Bay Harbour Authority During the workshop, delegates met with UK stakeholders including the Environment Agency and Ornamental Aquatic Trade Association (OATA) to discuss their views and concerns on parasite control measures. The international guests provided a set of lectures during the week (Prof. Poulin NRN-LCEE public lecture; Dr Blasco-Costa and Dr Thieltges: Cardiff Biosciences seminar series).
From this workshop, a review of current empirical studies and gaps in our understanding of the ecological and evolutionary impacts of parasite control programmes is being produced for publication in a high impact peer-reviewed journal.
Dr Ellison said: "The NRN-LCEE funding has been pivotal in bringing this wide range of experts together for the first time to tackle these issues. It has also been a fantastic opportunity to showcase Welsh research to our guests and forge new international collaborations for the future."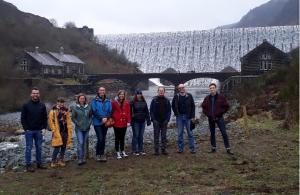 Workshop guests at Elan Valley reservoirs en route to the British Parasitological Meeting at Aberystwyth, which followed the workshop. The workshop's international guests were plenary speakers at the meeting
Publication date: 26 April 2018