AquaWales and Resilcoast researchers at NERC UnEarthed Science Showcase
From 17-20 November, NERC held their environmental science showcase, UnEarthed, hosted by Dynamic Earth Science Museum, Edinburgh. The event aimed to exhibit a diverse range of environmental science to audiences who would not usually be able to access it, through organised school and community group visits and free public access to Dynamic Earth and the UnEarthed showcase. During the event, scientists and researchers inspired and communicated their science to over 7000 people, including 1300 school children. The event attracted 3000 more people than initially expected to see the 29 exhibition stands representing science from across the UK. Among these were NRN-LCEE researchers from the AquaWales and Resilcoast Clusters, who successfully applied to NERC for a stand at the exhibition.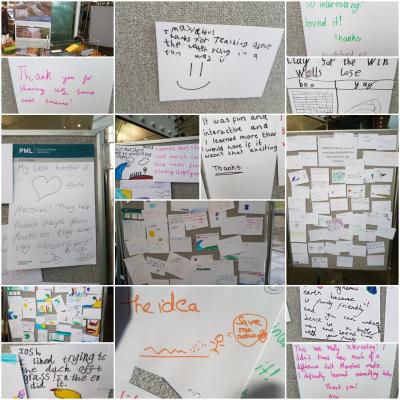 Feedback from the public at the Resilcoast standRESILCOAST was represented by Sêr Cymru Fellows Emma McKinley and Jordi Pages, and Co-I Nicky Beaumont, with additional support from Meghan Alexander, a Research Associate on the CoastWEB project. Team Saltmarsh used mini wave tanks to demonstrate the value of working with nature for climate change mitigation, coastal protection and coastal management. Throughout the four days, the team worked with lots of excited and inspired wave makers and future coastal engineers, and received much positive feedback about the exhibition including: "It was fun and interactive, and I learned more than I would have if it wasn't that exciting" and "we use grass to protect the surface and the people and it doesn't affect the animals because they can nest there". Overall, Team Saltmarsh used over 250 feedback postcards, 1000 stickers, 200 pens, and 1000 chocolate coins - clear evidence of the number of people who engaged with the exhibits. Both tanks went down well with the visitors, although the messier tank demonstrating coastal erosion of clay and sand sediments was particularly popular!
The AquaWales team repeated the phrase 'Would you like to extract some DNA from a strawberry?' an estimated 6000 times over the course of four days. At their stand 'Find Nessie', the public could get involved with activities based around DNA isolation and the use of eDNA to find species in Scottish Lochs. The team were overwhelmed by the attention the stand received, being inundated with members of the public from 3 months of age to grandparents. DNA extractions from strawberries was the most popular activity on their stand and audiences ooh-ed and aah-ed at the marvel of seeing DNA be precipitated from strawberry cells into an alcohol solution.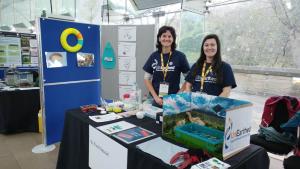 Team Nessie; Swansea University PhD student Chloe Robinson and Research Fellow Tamsyn Uren-Webster, ready to meet the crowds at their stand.
The 'Find Nessie' activity in an artificial Loch using a model PCR machine was also popular, with people of all ages exclaiming how 'cool' it was that we can use DNA left behind in aquatic environments to find out what species have been living there. On day three the stand was trending as the most popular stand, with fantastic feedback such as 'Strawberry DNA is cool' and 'I liked squishing DNA'.
This experience was thoroughly rewarding, and it was great to see so many members of the public get fully immersed in outreach activities. Many endearing comments from young members of the public, such as 'DNA is beautiful' and 'I love doing science' made it clear that the teams had made a big impression. The entire event, and the positive feedback it has received, further highlight the importance of science communication and public outreach – plus, it's fun!
Publication date: 22 November 2017