All Wales Marie Skłodowska-Curie Individual Fellowships Summer School 2018
For the third year in a row, the NRN-LCEE and Welsh Government's SCoRE Cymru scheme sponsored a summer school in May for researchers applying to the European Commission's Marie Skłodowska Curie Individual Fellowships scheme. The summer school brought together 34 applicants and 13 prospective supervisors from Bangor, Aberystwyth, Swansea and Cardiff Universities for a full-day proposal writing workshop in Cardiff. This complemented the planning meetings with supervisors and EU research development officers that the applicants attended at their respective host university. The applicants had travelled to Wales from 16 different countries from across Europe and the further afield, including Brazil, Singapore, Canada and China.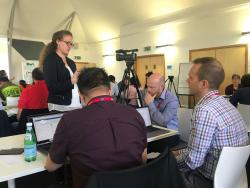 The workshop, led by Juliane Sauer, the former Swiss 'National Contact Point' for the Marie Skłodowska Curie Actions programme, was well received by all who attended. It offered an excellent insight into the European Commission's expectations and requirements for the scheme, as well as the chance for applicants and their supervisors to interact with one another, getting mutual feedback and inspiration. A current Fellowship holder and a European Commission proposal evaluator also addressed the group, offering hints and tips on how to write a strong proposal from their respective points of view.
Marie Skłodowska Curie Individual Fellowships fund postdoctoral researchers from any country to move to Europe to carry out an innovative research project and receive wide-ranging scientific and professional skills training. The scheme funds research from all disciplines and offers attractive funding and international mobility opportunities. It is therefore a popular and competitive scheme and therefore the four universities joined forces with Welsh Government and the NRN-LCEE to provide enhanced proposal preparation support to the researchers hoping to move to Wales for the next step in their research career.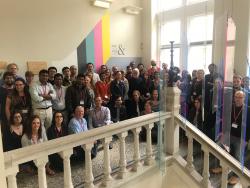 Publication date: 13 June 2018