All Wales Marie Skłodowska-Curie Individual Fellowships Summer School 2017
The NRN-LCEE and SCoRE Cymru funded Swansea University to host over 40 people for a Marie Skłodowska-Curie (MSCA) Individual Fellowships Summer School. This event aimed to support the development of excellent bids for the 14th September 2017 deadline.
Dr Andrew Macdonell from the UK Research Office (UKRO) and National Contact Point for MSCA, led the training sessions. These included time for discussion and proposal writing. There were presentations from MSCA Fellows Dr Zaineb Chelly Dagnia from Aberystwyth University and from Dr Marie Delmas from Cardiff University, who had won her Fellowship following a previous NRN-LCEE and SCoRE funded 2016 Summer School.
There were presentations from the European Enterprise Network on how to successfully link with businesses and secure secondment opportunities. Dr Rachel Adams from Cardiff Met University, who is an experienced evaluator for the MSCA Individual Fellowships programme, also spoke.
The positive feedback from delegates included:
[What did you find most valuable?] "The workshop provided a valuable guide to how the fellowship applications are really judged, not an idealised version."
"I valued the personal interactions with people involved in shaping the field, evaluating fellowships and successful fellows."
[General comments] "The workshop far exceeded my expectations, and has truly changed my understanding of writing funding proposals for the better."
Mark Allen, European Research Development Officer at Swansea University said: "We are really pleased with the positive comments we have received following the 2 days. The sessions were interactive and positive, with delegates describing themselves as fired-up and ready to work on their proposals ahead of the September deadline. We look forward to hopefully welcoming some of them back to Wales next year following successful fellowship bids".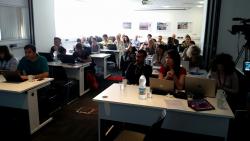 Prospective applicants for the ambitious MCSA Fellowships during the training at Swansea University.
Publication date: 17 July 2017