'Plants in Space' at the National Botanic Garden of Wales
The Plants & Architecture Cluster welcomed visitors to 'Plants in Space' at the National Botanic Garden of Wales on Saturday 19 November. 70 Visitors attended the event, which featured a range of activities demonstrating how plants sense light and gravity differently to us, how plants can be grown in space, and how some of our food might be produced in the future.
The concept of growing plants in space with minimal light, nutrients and water, was used to explain the challenges of growing crops with minimal resources more broadly. For example, visitors experienced innovative technical solutions to growing crops such as vertical farming, which is expected to become more important with population growth and increasing urbanisation.
The Aberystwyth-based Company 'The Homegrow Centre' supported the event by demonstrating their hydroponics growth kit, which could be used by local restaurants to grow, for example, their own herbs indoors without using soil. Children were able to make plastics from plants, and take their creations home with them.
The event was organised by the Plants & Architecture Cluster and Aberystwyth University, in partnership with The National Botanic Garden of Wales and the South Wales Astronomical Society.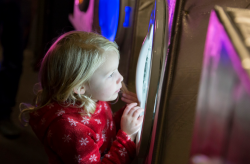 Photo credits: IBERS/ Tim Jones Photography
This news item is a shortened version of a press release by Aberystwyth University.
Publication date: 12 December 2016