Public Lecture: The challenges of applying science to nature based coastal protection
Dr Iris Möller, University of Cambridge
In this lecture, Dr Iris Möller will review current knowledge of coastal protection provided by natural wetlands, the challenges we face in applying this knowledge, and how those challenges might be solved.
Wetlands are common coastal features around the world that are threatened by sea level rise. While coastal populations are increasingly at risk from flooding and erosion, this is particularly the case on coasts fronted by wetlands and mangroves. If wetlands provide effective natural coastal protection, we need to act now to (a) safeguard this protective element, and (b) understand how it provides protection from flooding and erosion.
Dr Möller will discuss research at the Cambridge Coastal Research Unit and elsewhere, which shows that coastal wetlands provide protection through both their resistant structure and their surface characteristics. For example, under extreme storm surge conditions (such as those experienced in the North Sea in 1953 and in 2013), NW European salt marsh vegetation can reduce the height of non-breaking waves, and wetlands can reduce the risk of overtopping landward sea defences.
The transfer of this knowledge into practical solutions for nature-based coastal protection, however, has proven to be a greater challenge than might be expected and Dr Möller will discuss the reasons for this in her talk
Anyone interested in achieving more sustainable and multifunctional coastal protection should find this talk of interest.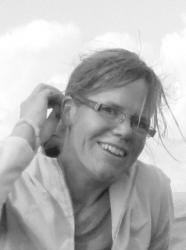 Dr Iris Möller received her PhD in Geography 1997, for a doctoral dissertation on 'Wave attenuation over saltmarsh surfaces' at the University of Cambridge. After a short spell of working at HR Wallingford Ltd, she joined the University of Cambridge's Coastal Research Unit as a Research Associate and Deputy Director. She took up a Full-Time College Lectureship in Physical Geography at Fitzwilliam College of the University of Cambridge in 2000. Since 2014, she has held a University Lectureship in Physical Geography (Coastal Processes) at the Department of Geography, alongside continuing her role as Deputy Director of the Cambridge Coastal Research Unit.
Dr Möller researches complex shallow coastal environments with a strongly applied focus on improving coastal flood and erosion risk management. Her 2013 true-to-scale experiment on the natural protection provided by salt marsh vegetation has been described by a reviewer as "just mind blowing and the results therefore unique and of incredible importance".
Related documents: