Public Lecture: Evolution of the body snatchers: the secret lives of parasites
Prof. Robert Poulin, University of Otago, New Zealand
This lecture has now finished, you can view a recording of the lecture here.
In this lecture, Professor Robert Poulin will give unique insights and share some fascinating examples of the amazing diversity and bizarre lives of parasites.
The mere mention of the word 'parasite' is enough to fill the average person with contempt and disgust. Even professional biologists think little of parasites; they are widely seen as degenerate organisms running counter to progressive evolution. Yet parasites are capable of amazing things, and the lives they spend in the nooks and crannies of their hosts are as full and complex as those of any other organism. Many parasites sense what is happening outside the host and adjust what they do inside the host accordingly. Others live in structured colonies with division of labour, a phenomenon we normally associate only with ants and bees, or with humans. Perhaps most impressive, parasites can take control of how their host behaves, turning the host into a puppet and making it do strange things for the parasites' own benefit.
Professor Robert Poulin will take us on a tour of the world of parasites, debunk several myths about them, and promote a greater appreciation of their unique biology.
When: 4 April 2018, 17.00-19.00
Where: Cardiff University Main Building, CF10 3AT
17.00-18.00 Free drinks reception, VJ Gallery, Main Building
18.00-19.00 Public Lecture: Wallace Lecture Theatre (0.13), Main Building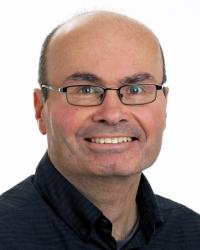 Originally from Montreal, Canada, Robert obtained a BSc from McGill University and a PhD from Laval University, before eventually joining the University of Otago in 1992. Since arriving there, he has established a research programme in parasite ecology and evolution that focuses on three main research directions:
First, his lab investigates the forces shaping the evolution of parasites, in particular the evolution of life history traits such as body size, host specificity, the ability to manipulate host behaviour, and the complexity of the transmission pathways.
Second, they are studying the role of parasites in aquatic ecosystems, i.e. how they affect community diversity and food web stability, and how parasitism may interact with climate change to influence the properties of ecosystems.
Third, Robert has long been exploring large-scale patterns of parasite biodiversity and biogeography, searching for the processes behind the diversification and distribution of parasites and diseases. Robert was awarded Otago University's Distinguished Research medal in 2013, the Hutton Medal from the Royal Society of New Zealand in 2011 for outstanding contribution to animal sciences, the Wardle Medal from the Canadian Society of Zoologists in 2007 for outstanding contribution to parasitology, a James Cook Research Fellowship in 2002 from the Royal Society of New Zealand, and he was elected Fellow of the Royal Society of New Zealand in 2001.