Public Lecture: Collaborating for sustainable natural resource management
This lecture has now finished, you can view a recording here.
In this lecture, Professor Katarina Eckerberg will discuss how governance collaborations between public and private partners can be used to promote sustainable rural development, and what knowledge is available on how such collaborations emerge and what effects they have.
Katarina will present studies of policies and projects concerning environment and natural resource management in Swedish mountain communities. Based on official documents, interviews, and records of 245 collaborative projects, in-depth studies of selected collaborative projects suggest that stakeholders' trust in public officers varies across county administrations. This variation causes different types of collaboration strategies to emerge in the form of confirmation, consultation, facilitation or negotiation. Leadership from public officers is found to spur both policy and project collaboration, but there is also a heavy burden on some local private partners who are being asked to participate in multiple collaborations. The most tangible outcomes of a collaboration are generally voiced as increased knowledge, mutual respect and a better climate for collaboration, hence the social aspects of sustainability. Economic and ecological aspects of sustainability are somewhat less stressed in project outcomes.
The findings that will be presented show that the state both initiates and coordinates policy networks and retains a great deal of power over the nature and functioning of collaborative governance in rural areas such as the Swedish mountains, both through policy making and funding requirements.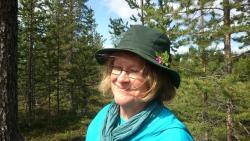 Katarina Eckerberg is Professor in Political Science at Umeå University, Sweden, specialising in environmental policy and administration. Her research comprises policy analysis and implementation studies of environment and sustainable development policy from international to local levels, often with a European comparative perspective, and including studies of land use systems, environmental policy instruments and Local Agenda 21. Currently she is engaged in research on collaborative governance in the Swedish mountain region, local politics and governance of nature and water protection, particularly in forestry and in interdisciplinary research on ecological restoration in policy and practice. She was a Cardiff University Distinguished Visiting Fellow in 2011 and is a member of the International Scientific Advisory Board of the Sustainable Places Research Institute in Cardiff.
17.00: Free drinks reception, VJ Gallery
17.30-18.30: Public Lecture by Prof. Katarina Eckerberg, Wallace Lecture Theatre: Room 0.13
NRN-LCEE public lectures are free to attend and open to the public. There is no need to book a seat.
This event will be recorded and will be available on our website after the event.